Mobile Dent Removal Manchester
Have you found a dent in your car's body work? They're so easily done, but they're such a pain to remove. You have to take time out of your day to go get them fixed, and it's inconvenient to say the least. That's where mobile dent removal Manchester comes in. We can remove that dent for you, no matter where you are. Here's how it works, and why you'll want to use our services.
Why Use A Mobile Dent Removal Service?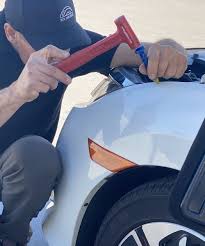 Firstly, why would you use a mobile service to repair your car, rather than a traditional body shop? Your preferred body shop will do good work, but it can be a long process to get done. Once you've dropped your car off, you could be waiting a week or more to get it fixed. That's really inconvenient when you need your car to get about.
With a mobile service, we'll come to you. That means that you don't have to be without your car at all. You won't have to take time out of your weekend, or take time off work to get to the repair shop. Instead, just let us know a few key details, such as the nature of the damage and the make and model of your car, and we'll be able to meet you.
That can be at home on your driveway, at work in the car park, or anywhere else you happen to be. As we can come to you, you can get on with your day while we work on your car. It makes it a lot easier for you to get your repairs done, especially if you're busy and can't be without it.
Cost Of Mobile Dent Removal
Another important thing to think about when choosing mobile dent removal Manchester is the cost. You of course don't want to spend more than you need to on repairing your car, and making it look as good as new again. Body shops do great work, but they can be more expensive than you'd think. You want to keep costs down, and that's where we come in.
You can get a quote just by sending us a few details over this website. You'll need to let us know what damage has been done, the make and model of your car, your location, and your contact details. We'll get back to you as soon as we can, to let you know just how much the quote will be. If you send a photo of the damage, we can give an even more accurate quote.
The best thing about our mobile dent removal Manchester is that we offer the best price, guaranteed. That means we'll often be able to offer a better price than your local body shop. As such, it's much more affordable to get that work done on your car, when you need it.
The Best Mobile Dent Removal Service
There are many people you can turn to if you're looking for mobile dent removal Manchester, but we offer one of the best services out there right now. We are specialists tackling any dent or scratch, no matter how big or small, from your car. Once we're done, you'll never know that there was damage at all.
Small dents, such as dents from another car door being opened onto your car, can very easily be fixed in no time at all. If you've suffered more extensive cosmetic damage, then we can replace panels as well to fix your car's body work.
We have out own specially kitted out vans to come to you and fix your body work. As such, we'll have everything on hand to repair the damage as soon as we show up to help. We also have expertise in several different styles of repair, including Paintless Dent Removal (PDR). These are designed to give your car the full showroom look, so you can drive with confidence that your car looks great.
Mobile car dent repair ensures that you can get affordably priced repairs wherever you are. No more having to leave your car at the garage, simply call us up and we'll come to you. We'll ensure that your car looks as good as new.